Keep it simple, stupid. A phrase for all seasons, situations and scenarios. It's never nice to be on the receiving end of it, so please take this intro in jest. 
Simplicity should be a brand's best friend. Whether a fledgling startup or a big, bustling business, a simple brand will always triumph over an identity that is confusing, convoluted and overly-complicated.
In this blog we're not just going to be talking about brand design and identity, but culture and values too. Because a 'brand' is every part of your business, not just the logo on your letterhead or the particular shade of yellow on your business cards ("The tasteful thickness of it. Oh my God, it even has a watermark…").
Let's start with design
Between us, we've probably taken more logo briefs than Paul Rand and Saul Bass combined, and more often than once, we've found ourselves talking potential clients down from the lofty heights of barely readable cursive fonts and ill-conceived illustrations.
Take a look at some of the greatest (or at least most recognisable) logos of our time. Braun. Apple. BBC. Audi. They are cool, they are small, and most of all, they are simple. Of course, they have earned their place in the logo hall of fame, but even the earlier iterations of the Nike logo were a hot mess. Many of the better-known logos that we know today have been through a journey of simplification of their own, but that's not to say brands need to come off the starting blocks with something overly-designed.

But don't be fooled – this isn't a cost-saving exercise. We certainly aren't going to draw a quick 'swoosh' in Adobe Illustrator and hand it over for £300. But we also won't be charging an exorbitant price for what seems like very little work. To us, it's about research and balance. We will take the time to understand our clients, their values, their product and what they're trying to achieve and with whom, and we'll balance all of that in a logo (and wider brand) which works in a modern marketplace.
You may roll your eyes when designers push back on your ambitious identity design ideas, but remember, we've been here before, and this is what we do. Trust the process and you'll be happier with the outcome, and more so, your audience will too.
Elementary, my dear Watson
Beyond the logo and arguably more important, are your brand elements. These could be anything from a bespoke set of icons, to pre-written taglines and headlines, or even your colour palette and font pairings. Once again, we don't just throw the office dart at a Pantone chart and pick a shade. Colour science is important, as is perception and accessibility. Your brand is the coming together of beautiful design, imagery, colours and copywriting, which tell the user what they can expect from your organisation, as succinctly and as authentically as possible.
Sure, certain colours won't work well with one another, and some are just meant to be. Some colours have connotations or associations, such as every IT company in the whole wide world using blue, or green being the agreed colour for sustainability and ecology. Accessibility should be a priority too. Colour contrast (and typography choices) can make or break the user experience of somebody with visual impairment. Keep it accessible.
Add too many brand elements to your toolkit, and your marketing teams will get confused and ultimately make mistakes. Add too few, and a rogue content designer may take it upon themselves to use unapproved illustrations or symbols, or worse-still, ClipArt. (Instant dismissal, surely.)
A brand toolkit should be expansive enough to convey meaning and messaging in a way that is simple and straightforward. Clear brand guidelines should help anyone from any area of the business to understand what can and cannot be used together. And with a gatekeeper or brand team to keep an eye on it all, consistency will remain present across all of your digital and physical channels.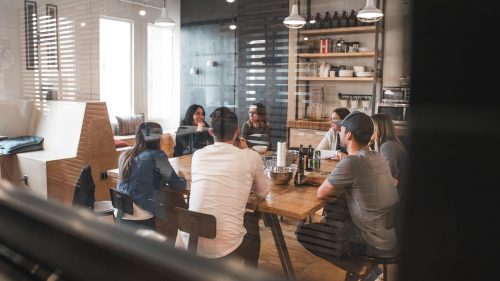 Value the value of your values
A good brand will live and breathe its values in everything it does, from the internal company culture to the customer onboarding process. We absolutely love brands who get this right, and we love to help brands get this right too. Let your customers know what to expect when they deal with you, and don't deviate from that promise. 
A well thought out and thoroughly tested customer journey that is a true reflection of your business, is what will ultimately win you customers and/or sales. A poorly thought out or confusing customer journey, particularly one that doesn't feel aligned with your overall brand, can push a customer away to the competition.
This is where a brand, a brand team and ultimately your brand agency too (hiya) should be doing the heavy lifting. If you've already put a great deal of time, thought and expense into how your brand looks, you'd be shooting yourself and all of your colleagues in both feet if you didn't spend time considering how your brand feels.
Customers, employees and users are looking for honest brands more than ever before. Customer loyalty, despite it not being a 1950s high street, is still very much alive and well, and websites like Trustpilot and Glassdoor make it very easy to unearth the 'nasties' in many industries.
If you've spent time building a vibrant, diverse and positive workplace culture, it would be a tremendous shame to exclude that from your brand. Even so, we've been in several brand workshops where our clients say things like "But why would our customers care about who we are?" Well, for many it's almost all they care about.
Demonstrate to the wider world how you're a better organisation than 'them next door' and do it in a way that is simple and sincere. Remember, audiences have already forgotten that they have an attention span before they even hit your website or open your app, so it's key that you get across what you're trying to say concisely, not only in word count, but in visual design too.
It's great that you want your brand's personality to come across, but don't overdo it. Too much copy, and you'll lose your audience. Too much wordplay, and you may lack sincerity. Too few photographs, and you'll lack the human touch.
Keep it simple, stupid
We are reiterating ourselves because it is just so important. Take a look at our portfolio of work and you'll see a common theme. Clear, accessible design that lets brands and their personalities  speak for themselves. 
In a world where add-ons, upgrades and uploads are flooding our minds with realms of information, it pays to keep it simple.
You're not stupid. Sorry we called you stupid.
If your brand needs simplifying or you're having trouble saying what you mean, let's talk. Fill in the form at the bottom of this page and we can set up a call or a meeting.