In case you missed it last month, we took a look at sustainability and why it should be at the heart of your brand strategy. You can read that here. In brief, being a sustainable business is about a whole lot more than cycling to work and putting things in the correct bins. Sustainability for brands is being ethical in everything that you do, striving for consumer and employee wellbeing, delivering economic value, and looking after the environment.
When it comes to actions, this can be fairly subjective depending on what kind of business or brand that you are. More formalised programmes such as B Corp exist to help guide businesses to becoming a force for good. But when it comes to marketing your business sustainably, or engaging in sustainability marketing, where do you start? What does it look like?
In today's blog we're looking at brands who've tackled sustainability head-on and set a great example not only in terms of execution, but sincerity too. If you're new here, you'll know that sincere and honest branding is what we're all about. It's particularly vital when dealing with such important commitments such as being a sustainable brand or offering a sustainable service.
Before we dive in, let's take a moment to understand the purpose of a sustainable marketing campaign. The naysayers will have you believe that campaigns such as these are simply virtue signalling – brands jumping on a metaphorical bandwagon to appeal to the younger demographic who typically align themselves with brands who engage with topics such as climate change, global warming and net zero.
In reality, many of the brands engaging in sustainable campaigns have made clear their views on the world, people and the environment long before. After all, we live in an age where frauds and fakes are almost immediately called out. 'Greenwashing' is sadly prevalent and there are indeed brands engaging in sustainability marketing just 'for the likes'.
However, brands such as Lego, Apple, Patagonia and Ben & Jerry's have a long history of social action. They are now simply acting upon the science and research that is undeniably pointing towards global warming, and using their platforms to not only spread a message, but demonstrate the changes they're making in their own operations to make the world a better place.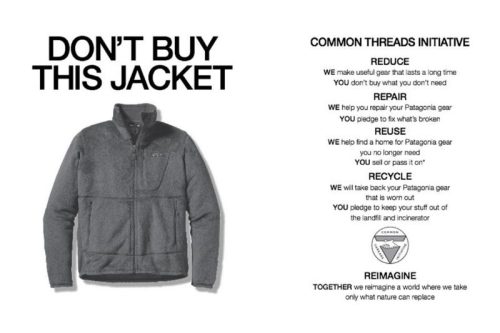 Patagonia: 'Don't Buy This Jacket'
Iconic? Yes. Revered? We think so. This 2011 campaign started as a full-page ad in the New York Times and was a direct comment on the excessive consumerism seen in fashion and other industries. Several paragraphs gave readers insight into just how intensive the garment-making process can be. Even with an eco-conscious approach to manufacturing, 130 litres of water were required to produce just one jacket. 
So what's the message here? Are they really telling you not to buy their product? Well, yes and no. The 'Ronseal' side of the campaign certainly discourages you from running out to buy a new jacket unless you really need one. But on the other hand, we are being told to 'buy better'. And here lies the marketing: Patagonia's 'Common Threads' initiative, broken down as 'reduce, repair, reuse, recycle'.
By purchasing a higher quality product (with undoubtedly a higher price point), we are reassured that the garment is not only manufactured with the environment and people in mind, but it will last longer and be repaired should it become damaged. The brand even goes one step further and re-sell clothing made from recycled Patagonia gear.
This impressive effort combined with their history of activism around racism, equality and even politics, puts Patagonia front of mind when we think of brands truly walking the walk when it comes to sustainability.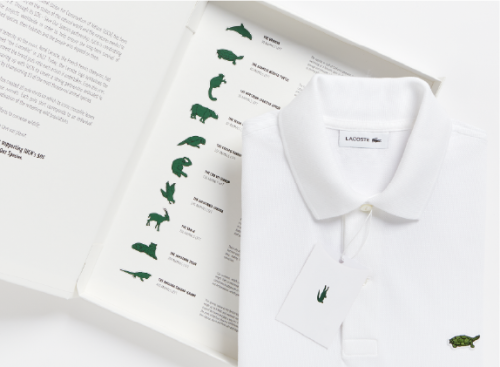 Lacoste: Save our Species
Whilst wildly impressive, Patagonia's campaign certainly won't win any design awards. On the other hand, Lacoste's efforts to raise awareness of endangered species is exactly the kind of creativity that we like to see.
Known for their familiar crocodile motif—a small, green, embroidered logomark—the brand 'disappeared' the croc and replaced it with turtles, lemurs, rhinos, condors, tigers and more – still in the familiar forest green colourway. 
These polo shirts were limited, and all proceeds were donated directly to the preservation of each species. Whilst this is a superb and commendable example of sustainability marketing, it's more specifically known as 'cause marketing', which has since become a pivotal part of many organisations' brand strategy. 
This brand-centric approach to campaigning is a true example of sustainability marketing. It's rare to see brands changing their logomark in such a distinct way. Of course, many brands add LGBTQIIA colours to their social media icons, but in recent years this movement has drawn criticism from campaigners who want to see more than just a 30-day 'social media takeover  in order to drive cultural change
Lacoste have put their money where their mouth is and raised awareness of causes many of us may not have even been aware of at all. Their no frills campaign puts funds directly where they're needed and the 'limited run' is a strong example of scarcity marketing. Great work.
Pokemon Go: Earth Day Cleanup
Arguably, the first two examples don't require much of a response from the consumer. Simply by a garment, or don't. That's why this 2018 campaign from Pokemon Go's creator, Niantic, really stands out to us.
Partnering with 46 non-profit organisations around the world, the game developer encouraged volunteers to take part in 41,000 hours of litter picking, resulting in a staggering 145 tonnes of rubbish being collected from streets and parks.
Pokemon Go is a mixed reality game in which users hunt 'species' via their smartphone's camera along with its GPS and map capabilities. Users are already outdoors and active, as a basic requirement of the game. By mobilising their fanbase for a good cause, Niantic were able to make a huge difference to countless public areas all over the world, as well as engaging with a young-middle-aged audience on a particular environmental issue. Players worked in groups of upto 2,500 people and were rewarded with in-game achievements.
This 'guerilla' style campaign is a tremendous example of integrating an important cause seamlessly into an existing channel. I mean, why wouldn't you want to take part if you're already a Pokemon Go player?
The campaign was such a success that it has been repeated for multiple years, and we hope to see this continue, and for other brands to take note of what you can achieve on a community level.
Honesty is the best policy
Of course, everything we've looked at here will have had a sizeable budget. But the essence of these campaigns and the message behind them is something that can be applied to a business of any size. Whether that's taking a more sustainable view on how your brand is positioned against the competition, diverting funds to direct action, or bringing your customers together to make a change, a lot can be done without the need for big, brash, bold campaigns. It's the sincerity that counts, and it's what lands with audiences most of all.
The final and perhaps most important point to consider here harks right back to our core Journey message of 'honest brands'. To appear to be sustainable, you must of course be sustainable. Change starts at the core of your business – NOT in your marketing. You can't shout from the rooftops when there's skeletons in your basement, so do your internal work first, and only then you can start to think about talking about sustainability externally and making it a part of your brand.
Where to begin? Start by measuring, researching and understanding. Where do you stand as a business? What do your emissions look like? What kind of work are you doing and what impact does that have on the world? What does a good client/good supplier look like to you? How do you support not only your own staff, but the community too?
These questions are just the tip of the iceberg, but for businesses with a desire to make a genuine change, they need to be answered. These are also questions you'll need to answer should you ever consider becoming a certified B Corporation, and if that's not on your roadmap any time soon, it's still a great framework to follow.
After all, who wants to be an unsustainable business?